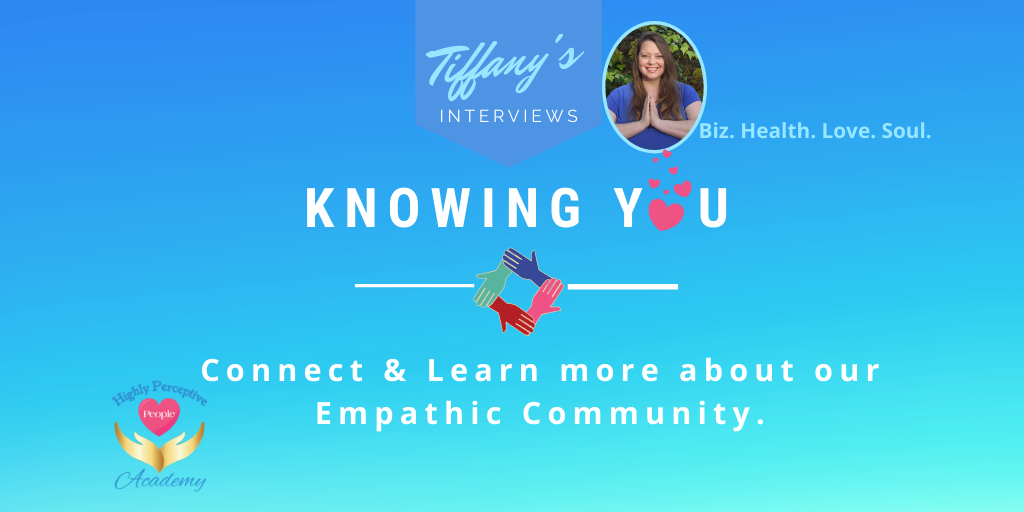 Get notifications about upcoming Interviews at:
Highly Perceptive People Academy FB Group – request to join the FB group if you're not yet in it. Then please adjust your settings to get notified when I livestream. And you can get reminders by clicking on "Interested" and "Reminder" in the lower right corner of the videos that are scheduled.
Highly Perceptive People Academy Youtube Channel – please subscribe to my YouTube Channel and click on the alarm icon so you'll get notifications when I go "live."
Many of the links to these free gifts below are from my affiliates that I know and like and support.
I am facilitating interviews of people in our Highly Perceptive People Academy "Empathic Community" with something personally or professionally happening in their life that is inspiring, helpful, supportive and fun.
Do you want to be interviewed? 🙂
–>If so, please fill out this Interview Form and here is the link to get your interview scheduled on my calendar. <–
Soul Aligned Coaching with Rae Irelan
Rae Irelan is an internationally acclaimed artist, speaker, mentor, and entrepreneur with the mission to bridge conscious culture and business to catalyze positive transformation in personal growth, human and business development, and healing of global trauma. Founder & CEO of The Global Goddess Fest, Rae coaches high level entrepreneurs, leaders, and creatives to pioneer new ways of business and relating. Rae supports her clients through the stages of human transformation while developing conscious business and global impact.
She has performed and spoken in front of audiences of over 10,000+ people at venues like Pepsi Amphitheater to the National Center of Performing Arts in Mumbai sharing stages with Jason Mraz, Emancipator, Trevor Hall, Ayla Nereo, and many more. She has recorded multiple albums, toured internationally, been seen on TV and film, nominated and taken home multiple music awards, produced multiple theater shows and festivals, has been published in books, magazines, articles, doctoral papers and now is writing her first book to come out 2021!
CLICK HERE for Free Soulful Strategy Session Call! 
Rae is a COACH/HEALER in my Embodiment Mentor Program. If you want to receive healing and coaching from her (and me) during my mentor program, be sure to register for the Crown Level. 
Pranic Healer & Firefighter Paramedic with Bill Hencke
Bill Hencke with PranaMedics, will talk about healing physical and psychological ailments with Pranic Healing.
Bill is a COACH/HEALER in my Embodiment Mentor Program. If you want to receive healing and coaching from him (and me) during my mentor program, be sure to register for the Crown Level.
Seeing Humanity to Create Change with Naheema McMicheaux-McCallop
Tiffany and Naheema will talk about using Heart-Work as a pathway to lead with humanity. They will address wounds around judgement, criticism, not feeling seen, heard or understood.
Click Here for Naheema's Free Gift.
Please RSVP for the Community Discussion and Healing to See Humanity and Heal Racism by Clicking Here.
Feeding Families During Covid with Anna Lung
Humanitarian, Anna Lung, will share how she has been doing awesome charitable service in her hometown to feed families in need. Listening to her talk about this has me want to do more to help and be even more charitable. Watch her inspiring story! 🙂
Great Parents Empower with Martina Caviezel
Parent Empowerment Coach, Martina Caviezel, will share tips on how to help parents and their kids, especially during Covid. I just love Martina and her generous nature.
Self Love with Karissa Love 
Karissa Love will be sharing her story of Self Love for authentic creation and powerful awakening.
Click Here for Karissa's Free Gift. 
Visibility Expert & Transformational Message Mentor, with Michelle Kopper 
Michelle Kopper will be joining us. She is a leading Visibility Expert, known as the Transformational Message Mentor, who has facilitated thousands of experts to break through the noise to get seen, get heard and get hired. Her unique approach to marketing will transform your ability to attract and enroll clients online, onstage and on video.
Divine Sexuality with Victoria Vives Khuong
Victoria Vives Khuong is an International bestselling Author of "In a Matter of Seconds", healing and shamanism teacher, spiritual leader, and host of the Divine Sexuality podcast. She has helped thousands of women around the world to access greater fulfillment in their lives and help others do the same through energy healing and spirituality. Victoria emphasizes Divine Sexuality as the most powerful philosophy she teaches because it is at the foundation of femininity and womanhood. Divine Sexuality facilitates women's ability to positively relate to their bodies, to their partners and to their sexuality.
Cell App Creator and 22 Yr Old Successful Marketing Genius, Matthew McGregor
Wise and youthful, Matthew McGregor, will share about creating a very profitable marketing business using cell phone apps. And he's only 22 years old! When I met him, I saw his joy, humility and an aura for success. So I asked him to be my guest and he is building me a cell phone app.
Renewed Living with a Healthy & Spiritual Lifestyle with Elaine Gibson
Elaine Gibson will share how she helps you to renew your lifestyle with hormone balancing foods, weight loss & vitality tips.
She has 3 awesome gifts for you as well to sneak in raw foods into your meals, juices for radiant skin & foods for hormone balancing. You can get these gifts by clicking here.
Uncanny Intuition Where Science Meets Woo with Vaishali Nikhade
Vaishali Nikhade, will share her intuition and  wisdom. Vaishali transitioned from a left brain engineer to a right brain psychic. She does over a thousand readings per year with an uncanny accuracy. She's studied both physics and metaphysics and hosts a podcast 'The uncanny link' – where science meets woo or physics meets metaphysics. Learning more about your intuitive side gives access to creativity and helps people understand how to tap into their innate gifts of intuition and creativity.
Being the "Go-To" Person & Thought Leader in Your Field with Doug Sandler
Doug Sandler with Turnkey Podcasts, talks about how things would change for your business if you were seen as the "go-to" person and thought leader in your field. Doug inspired me so much that I will be starting a podcast in a few months!
Oracle for the Divine, Natalie Bushnell
Natalie Bushnell is our guest in today's "Knowing You" episode. She has been speaking to God and the other side since a small child. She is a Supreme Mentor and Oracle for the divine. Connecting people back to their divinity and the purpose why they are here. She can see your soul and help you manifest your greatest desires into the physical.
Certified Money, Marketing and Soulful Business Strategist with Glory Ali
Glory Ali, helps Women Entrepreneurs breakdown the big picture so they have smaller daily, weekly and monthly goals for success.
Check out Glory's Free Gift at: https://muslimtravelrocks.lpages.co/branding-with-archetype-free-quiz/.